**WHEN PURCHASING MAKE SURE TO PICK YOUR "PLUG TYPE" , US, UK OR EU.
Fastest & Cheapest Way To Turn Chilly Rooms Into Warm, Cozy Spaces!
Quick and easy heat - Instantly!
Heats up to 250 square feet (23 sq. m.)
Plug in and turn on
Adjustable thermostat (60°F-90°F / 15°C-32°C)
Digital temperature display
Programmable 12-hour timer
Auto shut-off prevents overheating
Whisper-quiet operation
Compact design / Frees up floor space
3 Plug Options: EU Plug(220V) ,US Plug(110V),UK Plug(240V)
**WHEN PURCHASING MAKE SURE TO SELECT UNDER "PLUG TYPE" THE PLUG THAT WILL FIT YOUR OUTLET
No More Cold: Quick & Easy Heat...In Minutes!
The weather is changing with a chill...don't pile on some blankets to fight the cold. NOW you can warm your room with Handy Heater, the powerful heater that's incredibly small & keeps you cozy all year through winter, spring & fall.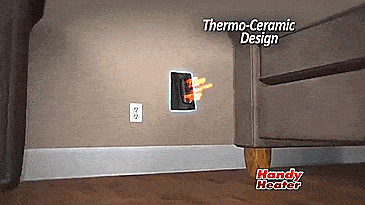 The thermo-ceramic design reduces the size & gives you soothing warmth in 15-20 minutes! The adjustable thermostat gives you exact temperature control, while the two-speed fan circulates air to keep you warm & cozy in any room of your home.  
Save BIG on Heating Bills: Power & Efficiency In Your Home
The Handy Heater is the easiest way to heat up an entire area for just pennies a day! It is powerful enough to fill any room up to 250 square feet with warm comforting heat. It's also much more efficient than traditional central heating systems because you are only heating up space you're using. 
Great for Bathrooms, Bedrooms, Living Rooms, Offices, Garages...Anywhere You Need Heat!
Handy Heater transforms cold & chilly spaces into warm & cozy places. Bathrooms are especially cold, and cold tile is like ice on your feet but with this heater plugged in, your bathroom is always warm & toasty.   
Perfect for chilly areas that have drafty windows & doors. Warm up a freezing office or a cold & drafty dorm room. Even a garage or basement workshop stays nice & comfy. Handy Heater is also ideal for homes with children & pets.   
Compact, Lightweight & Easy to Use
No messy cables or installations required. Simply plug in & adjust the thermostat for perfect comforting heat. Ordinary space heaters are too large to store & so heavy that the wheels can damage your wooden floor. The compact design of the Handy Heater takes up no space & easily moves from room to room anytime, any place.
Now you can warm up the rooms you use the most without heating the entire house. Use the Handy Heater in your family room, warm up your kitchen while preparing meals, and keep the dining room cozy & comfortable. It even has an automatic timer so you can warm up your bedroom at night. Set the time to shut off after a few hours so it's nice & cool while you're sleeping.